May 22, 2022
Understanding News to Gain More Profit When Trading Stocks – Premarket Preparation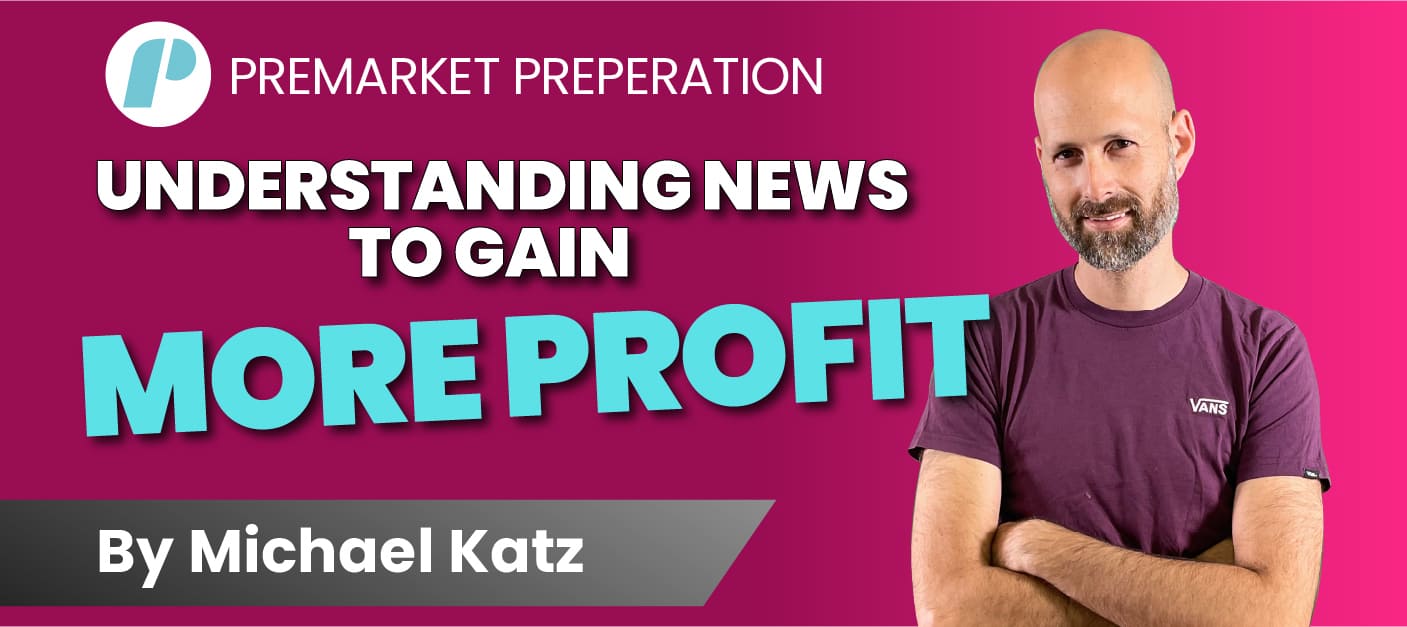 Premarket Preparation
"Give me 6 hours to chop down a tree, and I will spend the first 4 hours sharpening up the axe"
Our classes of premarket preparation present advanced trading concepts on how to prepare day traders for the trading day ahead.
This video is part of a series on pre-market preparation for trading stocks. It focuses on the importance of understanding news and how it can impact the stock market.
Understanding News to Gain More Profit
When it comes to finding the right stock to trade, this is by far the most important topic of all.
In this lesson, Michael explains the different types of news topics. Which one is "stronger" than the other, and how to pick the best stock to trade.
Step-by-step process for pre-market preparation
One of the first things to emphasizes is the importance of following a step-by-step process for pre-market preparation. We recommend starting with market analysis, then using scanners to find the right stocks, analyzing those stocks, creating a watch list, and finally turning to the news to see what might be driving changes in those stocks. By following this process, traders can make informed decisions based on a variety of factors rather than just jumping in based on a single piece of news.
News is a crucial factor in trading because it can create massive amounts of volume and volatility in a given asset. Take the example of Elon Musk buying 9% of Twitter, which would likely cause Twitter's stock to go up in pre-market trading. But there are many other types of news that can impact stocks, from earnings reports to upgrades or downgrades by analysts to major announcements about company acquisitions or layoffs. All traders should consider the impact of different types of news and to look for news that is likely to create strong momentum in a particular stock.
To illustrate this approach, the video shows a few examples of stocks that Michael is considering trading on a particular day. He explains how he looks at the news related to each stock and assesses the impact it's likely to have. For example, he notes that a stock in the energy sector is dropping in pre-market trading due to earnings that came in lower than expected. He views this as a potential opportunity to short the stock if it drops below certain support levels, based on the analysis he's already done. On the other hand, he points to another stock that's gotten FDA approval for post-marketing activities, which he sees as a positive catalyst that could drive the stock up. He notes the high volume and momentum in the stock and suggests it might be a good candidate for a long trade.
Understanding the News – Summary
It is important to have a systematic approach to pre-market preparation and use news to inform trading decisions. News is just one factor to consider and it's important to do thorough analysis of each stock before making a trade. By following these guidelines, traders can increase their chances of making profitable trades and avoiding costly mistakes.
If you want to prepare yourself in the best possible way for intraday trading check out our other posts about pre market.
If you liked this post make sure to share it!