"Incorporating position risk management into your trading plan is essential for passing the evaluation phase."
Richard W., 49 years old, from Singapore.
Richard has successfully passed our Mini Buying Power program, and he is now TTP's funded trader managing a $20K account, or as we call it, he is a true "Stock Star".
Every time he reaches 5 consecutive winning days, we will boost his buying power and max exposure.
We spoke with Richard about his trading plan, insights, and lessons gained while trading in the markets and our platform as a funded trader.
Richard's evaluation statistics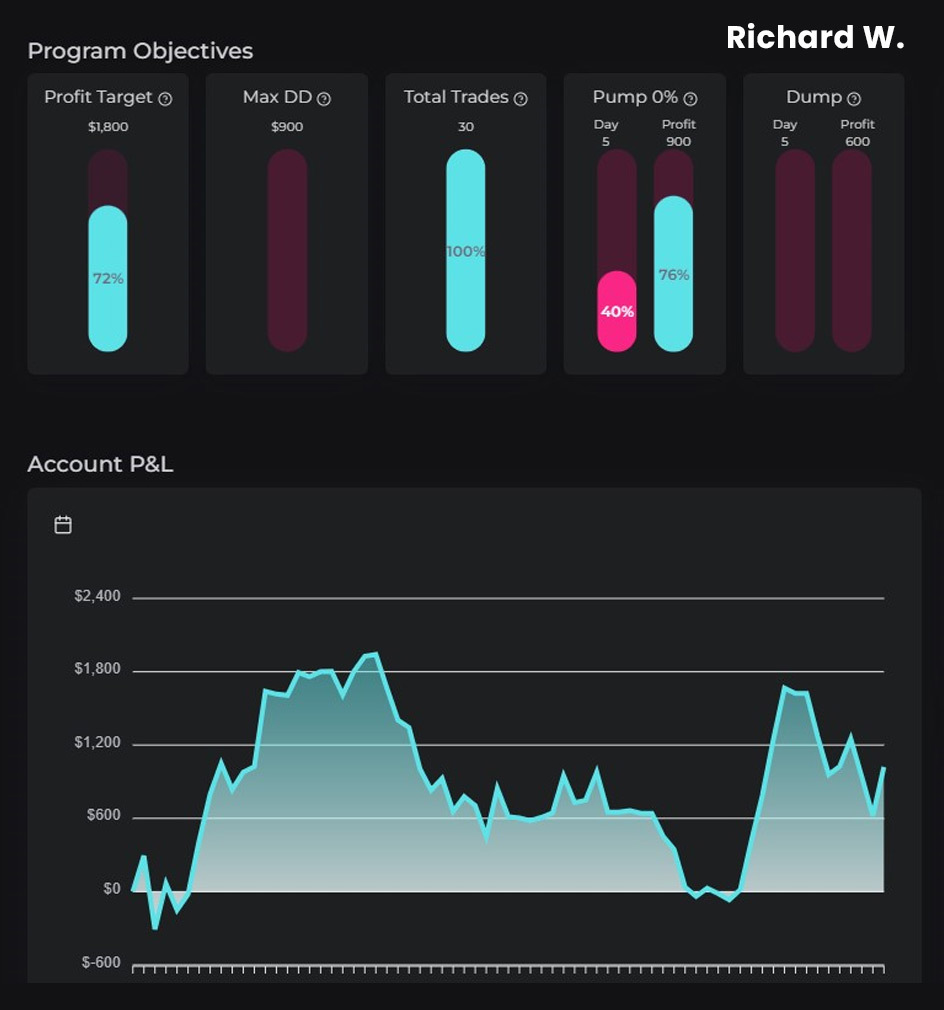 Q&A'S With Richard
Tell us a little bit about yourself
I am Richard from Singapore. I enjoy trading, exercising, and living life on my own terms.
How long have you been trading?
I've been a Swing Trader for 5.5 years
Briefly describe your trading plan and how it contributes to your success
I am a short-seller who trades day gainer(s) with high volume. I would wait for reversal setup to be completed before entering the market. Patience and discipline are vital to success.
Share with us a challenge you faced in your trading career and how you overcame it
I was a slow learner in acquiring my trading competency and it took me a long while before becoming profitable. Believing in myself, staying persistent, and never giving up helped me to overcome my unprofitable stint.

How did you adjust risk management to your trading personality?
I believe each play has a different risk. As such, I would define the risk of each play before entering the market. With the defined risk, I set the stop limit for each of my positions accordingly. This way, every risk undertaken is an informed decision. Even if the trade turns out unprofitable, I know it is a probable outcome that is within my level of acceptance.
Describe a key moment in your trading career
My key moment is the epiphany that funded trading is the way to go for my trading endeavor.
As a funded trader, I could detach my emotions from my trade amidst price fluctuations while waiting for the play to pan out in my favor.
How long did it take for you to become a consistent trader, and what aspects did you change for that?
It took me 5 long years to become a consistent trader. For that, I have become as disciplined and patient as I need to be. Over and above, I constantly keep in tab with the ever-changing market.
What is your mental/psychological strength, and how did you develop it
Tenacity. I love and enjoy trading, and these help me not to give up during the toughest times.
Studying the trade(s) of the day for learning lessons. Watching markets daily, helps develop belief in intuition, because the same things happen over and over again.
What was your strategy for successfully passing the evaluation phase?
Utilize a tested & proven strategy that is aligned to my personality. Minding my position risk and weaving it into my trading plan are pivotal to passing the evaluation phase.
How is trading for Trade The Pool different from trading by yourself?
I am able to detach my emotions from my trades. Further, funded trading requires no capital of my own other than the program fee. Over and above, funded trading could be scaled rapidly when done right.
What would you recommend to someone who is just starting with us?
Make sure you adhere to your tested and proven trading strategy with risk management integrated into all your trades.
Share online resources that were/are significant in your trading development. Names and links are appreciated.
I make reference to Benzinga, Finviz, Investing.com and use thinkorswim charts in my trades.
Would you like to share anything else with us?
I look forward to Trade The Pool's increasing the number of stocks that we can trade with, especially the newly listed stocks.
If you liked this post make sure to share it!