September 7, 2023
$80k Funded Trader – TTP Helped Me Put Together Winning Trades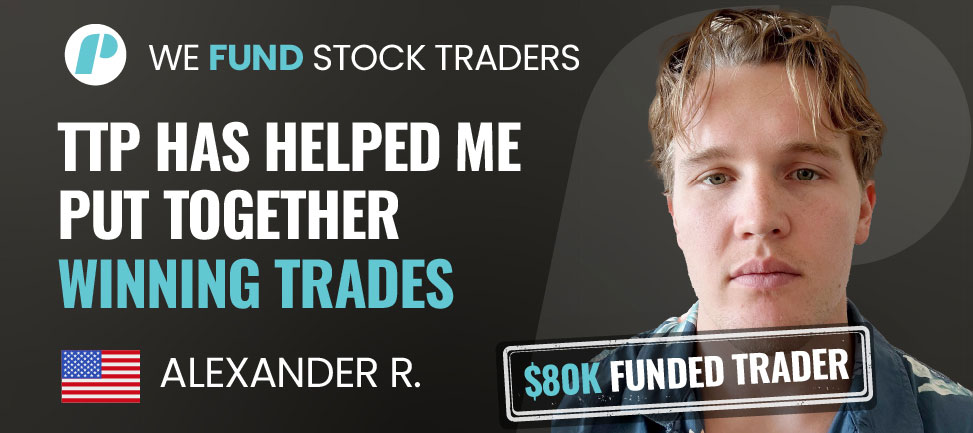 "
It's easy to want to max size and capture big winners, but consistency is key.

"

Alexander R., 26 years old, from the United States.

Alexander has successfully passed our Super Buying Power program, and he is now TTP's funded trader managing an $80K account, or as we call it, he is a true "Stock Star".

Every time he reaches 5 consecutive winning days, we will boost his buying power and max exposure.

We spoke with Alexander about his trading plan, insights, and lessons gained while trading in the markets and our platform as a funded trader.
Watch The Interview With Alexander
Alexander's evaluation statistics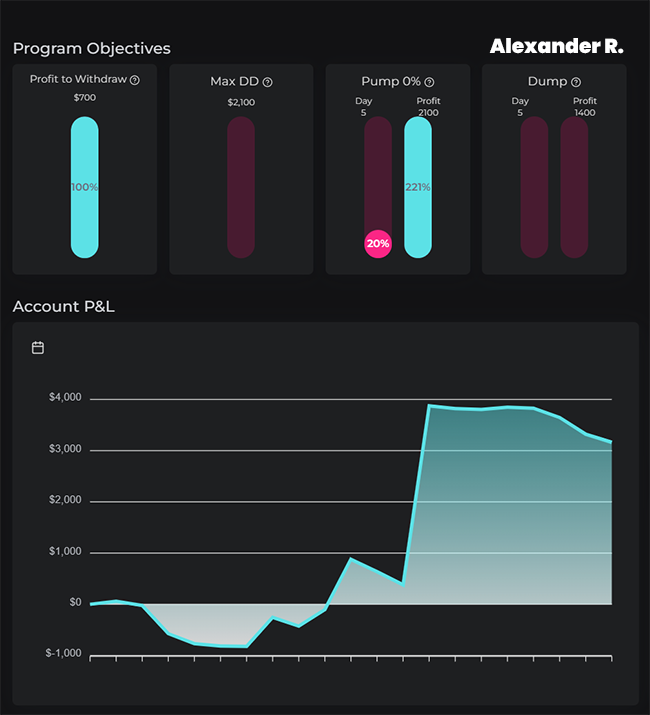 Tell us a little bit about yourself.
I live in the Midwest with my wife and new baby.  As a part-time trader, I work remote and trade mornings.
How long have you been trading?
I've been trading for 3 years.
Briefly describe your trading plan and how it contributes to your success.
I narrow down my focus to 3-5 in play names on the day, and by the open, I'm really only looking at 1-2 names. I've written down probabilities of what I think can happen on the open and my general bias in the stock. Then, when I execute, I look for opportunities where the momentum of the stock turns from either over-extension to upside or the downside. I also like to play opening range breakouts in names with strong catalyst as well as multi- day breakouts.
Share with us a challenge you faced in your trading career and how you overcame it.
I've had difficulties trading on tilt and have allowed losers to grow and compound. I can usually put together great string of winning trades but then blow up trading on tilt. Risk parameters have always been challenging. TTP has helped me with this immensely

How did you adjust risk management to your trading personality?
I love to capture the big move and have trouble taking profit on small winners. This was something I had to adjust in order to build momentum and string wins together. Then when I do capture a big move, I trade around a core position and pay myself along the way. It is too difficult to go all in and all out. That is an easy way to stop out over and over. The commissions also add up quickly and eat into profit.
Describe a key moment in your trading career.
A key movement for me was taking a large loss and being able to recognize that the opportunity was still there and potentially even greater the next day. I made back the loss and then some. It taught me that trading is all about keeping yourself in the game. The opportunities will always come, but if you blow up or stop out, you wont be there to take these trades.
How long did it take for you to become a consistent trader, and what aspects did you change for that?
I am still in the process of becoming consistent, but a huge leap in the process was limiting my biggest losses. I have always been able to find the right stocks to trade and have executed well, but I have a tendency to give back gains or overtrade. Creating rules to limit these issues has been the biggest change.
What is your mental/psychological strength, and how did you develop it
Mentally it is about being open and honest with your weaknesses and recognize where you are losing money. I think everyone can find ways to make money in the market but it is more difficult to see all the ways that you consistently lose money and work to change those habits.
What was your strategy for successfully passing the evaluation phase?
Trading the most in play stocks that were seeing the highest retail participation. Looking for asymmetric opportunities that offered very high risk/reward in short term.
How is trading for Trade The Pool different from trading by yourself?
Larger buying power and set risk controls. The risk management is the biggest thing. The execution is also different. In TTP, I almost always have to cross the spread to get filled which makes things difficult if trading a stock with spread greater than 0.10. Makes it almost never worth it to market order.
What would you recommend to someone who is just starting with us?
I would recommend starting slow with limited size. Its easy to want to max size and capture big winners but consistency is key. Also important to build a buffer early on so don't allow large losses and don't allow winners to turn into losers.
Share online resources that were/are significant in your trading development. Names and links are appreciated.
SMB Capital, Twitter, Investors Underground, lots of screen time.
If you liked this post make sure to share it!