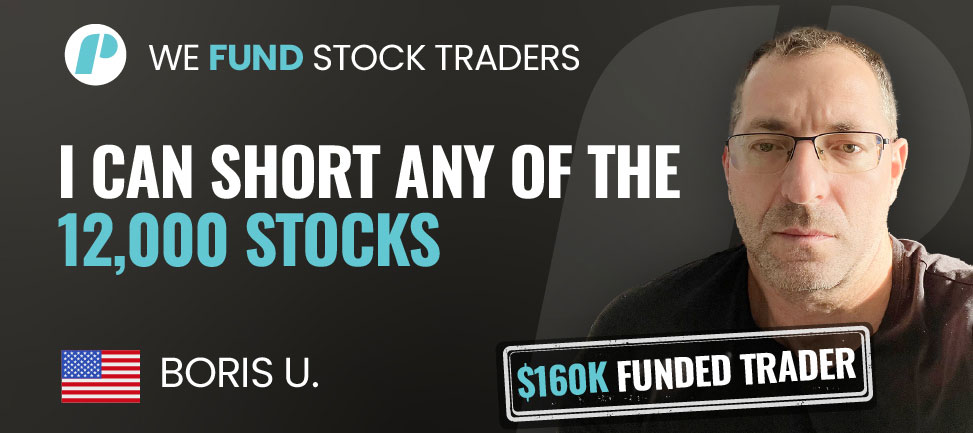 "Being able to recover was crucial to develop a new strategy to minimize losses."
Boris U., 48 years old, from the United States.
Boris has successfully passed our Extra Buying Power program, and he is now TTP's funded trader managing a $160K account, or as we call it, he is a true "Stock Star".
Every time he reaches 5 consecutive winning days, we will boost his buying power and max exposure.
We spoke with Boris about his trading plan, insights, and lessons gained while trading in the markets and our platform as a funded trader.
Boris's evaluation statistics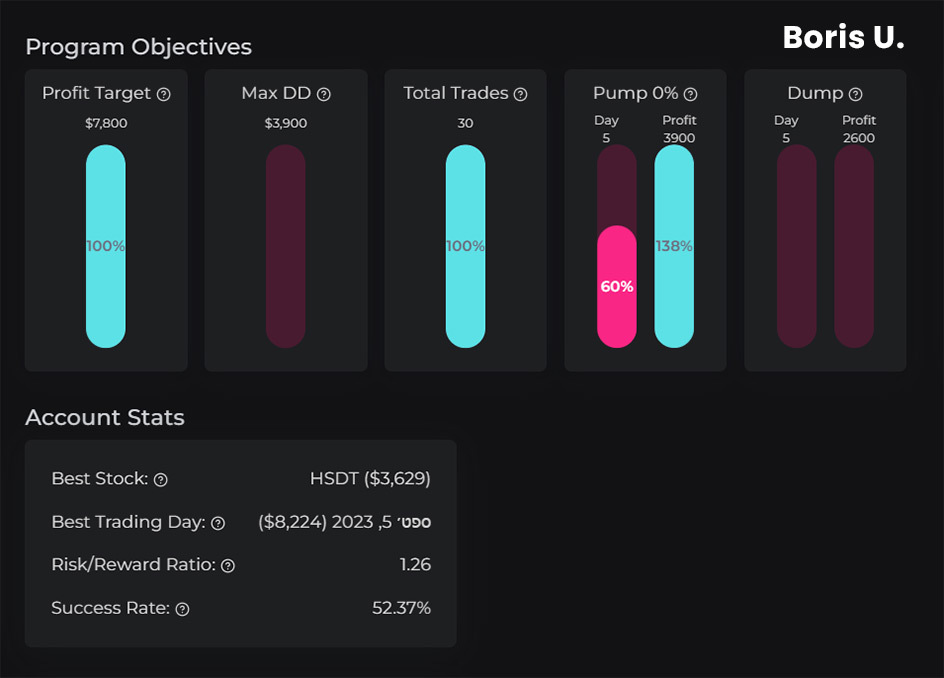 Q&A's With Boris
Tell us a little bit about yourself
My name is Boris Urman. I had been living in Israel for 16 years, then moved to the United States. I am a short-bias day trader.
How long have you been trading?
I've been trading for over 8 years
Briefly describe your trading plan and how it contributes to your success
I trade mostly in Premarket hours and started to focus on stocks over 20% change. I looked at a daily chart to determine key levels (resistance/support) and draw on intraday chart premarket levels. When the market opens, I  try to focus on spikes with big volume and wait for approximately 15 minutes.
Share with us a challenge you faced in your trading career and how you overcame it
In the beginning, there was no understanding of what I was doing. I only thought about money, and only over the years I begin to think about the process. The moment I began thinking about the process, I started to have some successful trades and developed consistency.

How did you adjust risk management to your trading personality?
My risk management is how I feel comfortable with position size.
Describe a key moment in your trading career
When I had my first big loss. Being able to recover was crucial to develop a new strategy to minimize losses.
How long did it take for you to become a consistent trader, and what aspects did you change for that?
It took me 4-5 years to become a consistent trader.
What is your mental/psychological strength, and how did you develop it
My mental and psychological strength depends on my position size.
What was your strategy for successfully passing the evaluation phase?
My strategy is to trade only small caps.
How is trading for Trade The Pool different from trading by yourself?
It's different because we trade stocks with no need to care about locates so that I can short any of the 12,000 stocks.
The risk management. If I already understand that the stock is going against me, then I am automatically closed by the daily loss parameter, and I have no temptation to add more and, accordingly, get a larger loss. I consider this an advantage of Trade The Pool.
What would you recommend to someone who is just starting with us?
Trade small position size for start.
Share online resources that were/are significant in your trading development. Names and links are appreciated.
Investorslive. This is a big community of traders with a chat room and educational resources.
If you liked this post make sure to share it!