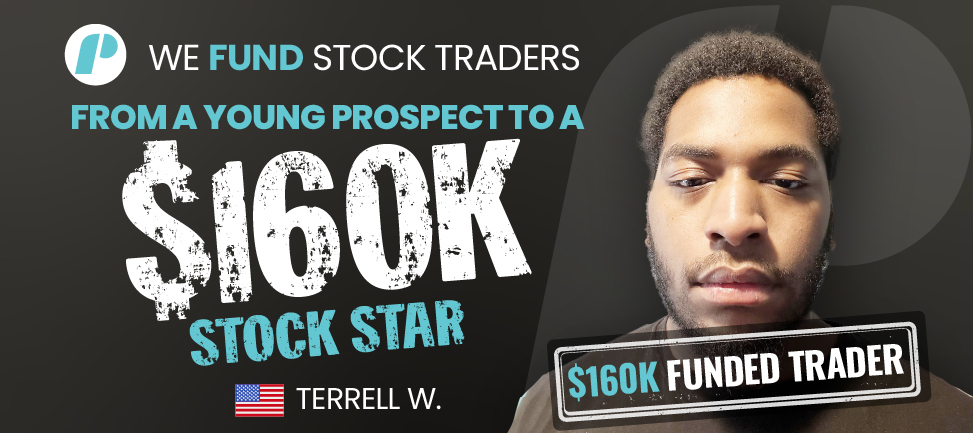 "Having a risk manager really helped me make sure I was making sound decisions"
Terrell W., 21 years old, from the USA.
Terrell has successfully passed our Extra Buying Power program, and he is now TTP's funded trader managing a $160K account, or as we call it, he is a true "Stock Star".
Every time he reaches 5 consecutive winning days, we will boost his buying power and max exposure.
We spoke with Terrell about his trading plan, insights, and lessons gained while trading in the markets and our platform as a funded trader.
Terrell's evaluation statistics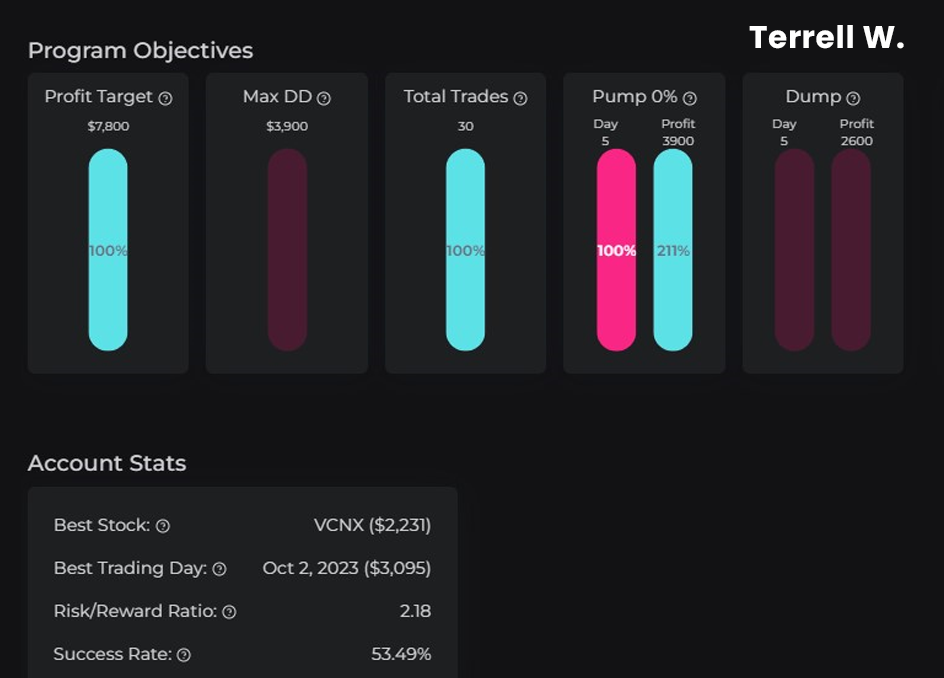 Q&A's With Terrell
Tell us a little bit about yourself
I'm 21 years old. I live in the United States, and I've always had a passion for the markets from a young age.
How long have you been trading?
I've been trading full-time for a little over 5 years.
Briefly describe your trading plan and how it contributes to your success
My trading plan is to trade only a few key setups on the most volatile stocks of the day. I will typically get up around 7:00 AM market time but may get up earlier depending on the scan from the previous after-hours session. This allows me to take advantage of the stocks setting up for moves later on towards the open.
Share with us a challenge you faced in your trading career and how you overcame it
I struggled with taking my stops when the price hit that level. What really helped me overcome this was looking back at all my trades where I didn't follow my stop, and just showing myself that in the long term not respecting my risk loses me money.

How did you adjust risk management to your trading personality?
I prefer to know if I'm wrong not long after opening a trade, so I like to enter in key areas where I can find out relatively soon. The amount I'm willing to risk percentage-wise will vary depending on the setup, but generally I prefer to keep tight stops at key levels.
Describe a key moment in your trading career
A key moment in my trading career was in 2020 when I had my best months ever in the early part of the year, but ended up giving it all back in the following months. This was a huge milestone in my journey because it taught me it doesn't matter how good your edge is if you don't exercise risk management.
How long did it take for you to become a consistent trader, and what aspects did you change for that?
It took about 2 years before I found some consistency trading OTC breakouts, but when the OTC runners stopped coming around there weren't any opportunities to take. I started day trading at the beginning of this year, and it took about 6 months before I began to show consistency. One of the key things that helped me was reviewing my old trades to figure out exactly what setups I was taking, and improving upon how I trade them.
What is your mental/psychological strength, and how did you develop it
I believe my biggest mental strength when it comes to trading is my ability for pattern recognition and having a strong understanding of price action and volume. I developed this skill from just being active in the market for several years.
What was your strategy for successfully passing the evaluation phase?
My strategy for passing the evaluation was to cut out the subpar setups focusing on only 1 to 2 setups, and maximizing when those setups offer good R:R.
How is trading for Trade The Pool different from trading by yourself?
Having a risk manager really helped me make sure I was making sound decisions. Also, if I'm not performing my best on the day, having my ability to trade paused can be crucial in making sure I don't start overtrading.
What would you recommend to someone who is just starting with us?
To any traders new to the program, I would suggest just taking it slow, and use small size in the beginning. Find what market and setups best suit you, and really earn the right to size up, by building out a cushion.
Share online resources that were/are significant in your trading development. Names and links are appreciated.
I would suggest watching Chat with Traders Podcast, and SMB Capital Youtube videos. Very good insights for all types of trading in both.
If you liked this post make sure to share it!