September 14, 2023
TTP $80k Funded Trader – "With TTP You Have Capital Size That Allows You to Make Profits"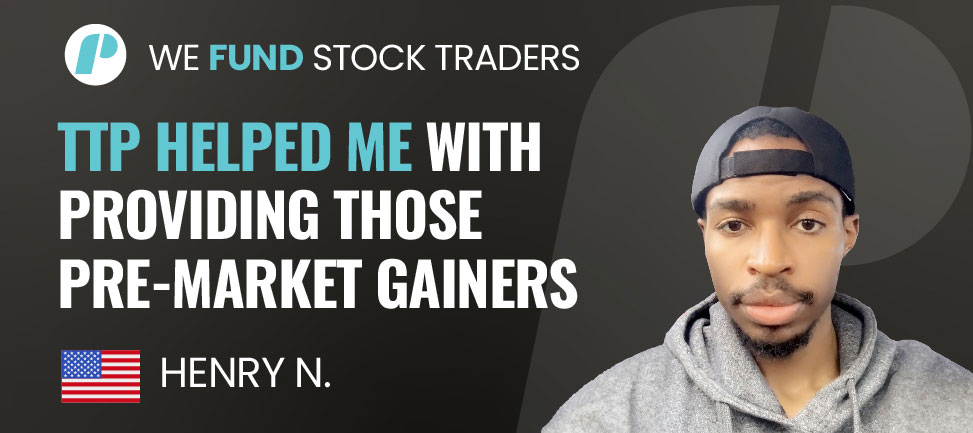 "TTP helped me with providing those pre-market gainers."
Henry N., 24 years old, from the United States.
Henry has successfully passed our Super Buying Power program, and he is now TTP's funded trader managing an $80K account, or as we call it, he is a true "Stock Star".
Every time he reaches 5 consecutive winning days, we will boost his buying power and max exposure.
We spoke with Henry about his trading plan, insights, and lessons gained while trading in the markets and our platform as a funded trader.
Henry's evaluation statistics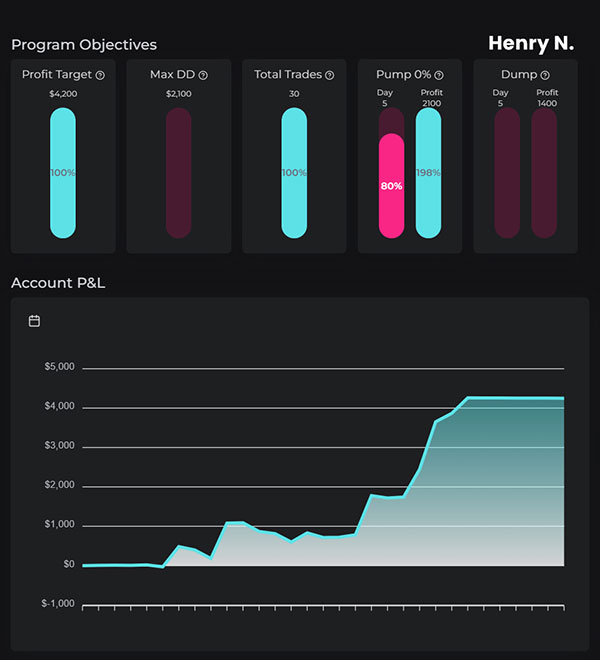 Tell us a little bit about yourself
I am a 24 yr old from the US.
I've lived in this country for roughly 16 years.
After my first win of about $10, I was so motivated to master the skillset and maximize this opportunity.
How long have you been trading?
I've been trading for roughly 2 years.
I actually did not ever picture myself ever trading until 2 years ago when I discovered that you could make profits from stock market moves.
After some light gains and painful losses, I was forced to take a step back to evaluate and maybe find other way to approach this without losing so much. That is when one of my close friends told me about prop firms and how you could prove your trading skills in return for capital and a chance to really grow!
Briefly describe your trading plan and how it contributes to your success
Each week is very similar to the other, and it goes:
30 mins – 1hr before market open, I identify stocks that have or are making moves in the pre-market session, maybe at least 2% changes or higher whether up or down (learnt this after joining TTP). TTP actually helps with providing those "pre-market gainers". After the stocks have been identified, I now find what I think is the market direction based on 15 minute/1-4hr time frame looking at the highs of the week and the lows as well. Once there is a sense of direction, I now start to identify yesterday's highs/lows, same for premarket. Once that's done, I ready up, wait for market then I look for entries.
Share with us a challenge you faced in your trading career and how you overcame it
One challenge I definitely faced while undergoing this course was the risk department. On my first few accounts, I had little to no risk management. Rather, I had set profit target and totally forgot about risk and what comes with that. I overcame this challenge when I realized and accepted that without risk management, you are nothing in this world of traders. I established a system that would help me get in and out of the market without much second guessing. I created a system that tells me how many shares to buy based on the price of a stock. This helped my get in and out without over buying & etc.

How did you adjust risk management to your trading personality?
I started to scale into positions rather than putting all my positions in at once. Once I had accumulated profit, then I could handle more positions.
Describe a key moment in your trading career
One of the key moments in my trading career was when I started making consistent profit after developing a new strategy.
How long did it take for you to become a consistent trader, and what aspects did you change for that?
It took over 2 years for me to become consistently profitable and it took understanding risk management/position sizing to change that.
What is your mental/psychological strength, and how did you develop it
Mentally, I am a bit above average. I learnt a few things concerning psychology and how fear can ruin your trading career. I then decided to start trading more confidently. it was a night and day difference. I watched videos that helped traders overcome fear and uncertainty, things like those. You need a strategy and a few. Once you have that, you need to trust it.
What was your strategy for successfully passing the evaluation phase?
Start small now go bigger later. building the account with small size positions in order to reduce initial risk and accumulate bigger risk capacity then manage after that. Do not have to trade every day. catching and holding big moves such as earning calls.
How is trading for Trade The Pool different from trading by yourself?
With TTP, you have reasonable capital sizes that allow you to make profits assuming you are profitable. It is not easy to just spawn $80,000 and just begin to trade… so TTP is helping more than they can imagine.
What would you recommend to someone who is just starting with us?
Large caps have been very reliable. Start with small positions. Starting big can risk positioning yourself terribly almost as soon as you started.
Share online resources that were/are significant in your trading development. Names and links are appreciated.
#1. Trade the Pool Discord!! woot wooot!
#2. Yahoo Finance
#3. Moomoo
#4. Trading View
If you liked this post make sure to share it!