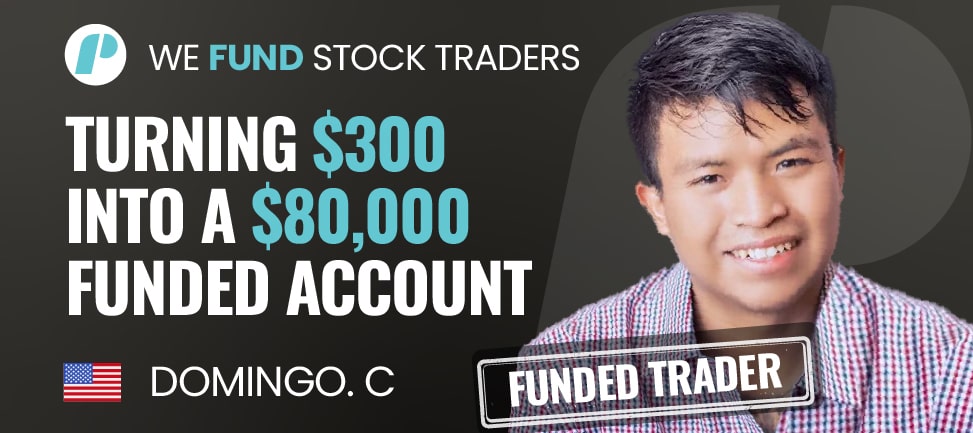 "Low your position size on trades where you are not extremely confident in" That's Domingo's Advice.
Domingo C, From the US.
Domingo has successfully passed our Super Buying Power program and is now one of TTP's funded traders, or as we call it, "Stock Star."
Every time he reaches 5 consecutive winning days, we will boost his buying power and max exposure.
We spoke with Domingo about his trading plan, insights, and lessons gained while trading in the markets and our platform as a funded trader.
Watch The Interview With Domingo
Domingo has successfully turned his initial investment of $300 into a fully-funded trading account of $80,000. In this interview Domingo discusses his trading journey, strategies, and the type of trader he is.
Domingo started trading about a year ago with his own money as he was looking for an alternative to his nine-to-five job. He initially started looking into the market and learning about different stocks, including big tech names like Apple and Tesla. Over time, he transitioned into trading ETFs, particularly 3x ETFs and semiconductor ETFs, as they tend to move more than individual stocks.

Domingo is an aggressive trader who looks for strong moves and good setups. He has moved away from using technical indicators like MACD, RSI, and moving averages and now trades based on price action and support and resistance levels. He believes that the market has shifted and technical indicators are not as reliable as they once were.
When it comes to his trading strategy, Domingo looks for higher highs and higher lows and checks if it's over a B-WOP. If it is, then he considers it a good trade as it's a strong position. He has a specific plan and set of rules that he applies to his trades, such as a minimum one-to-two ratio between his stop loss and take profit. He is typically looking for a 50 cent to 75 cent profit on a trade and a 30 cent loss.
Trade The Pool Fund is a trading community that provides traders with the capital to trade. Once traders pass an evaluation process, they are given a funded trading account to work with. Domingo is now a funded trader with Trade The Pool Fund, having successfully passed the evaluation process.
In conclusion
Domingo's success story demonstrates the importance of persistence and discipline in trading. He started small with his own money and worked his way up to a fully-funded trading account. His transition from trading individual stocks to ETFs and reliance on price action and support and resistance levels instead of technical indicators highlights the need for traders to adapt and evolve with the market. Domingo's interview provides valuable insights into his journey as a trader and his strategies for success.
If you liked this post make sure to share it!